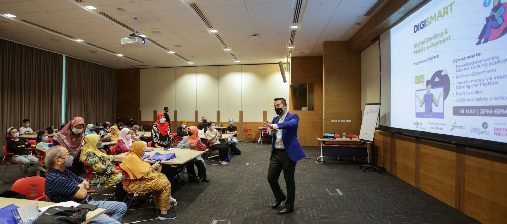 The #DigiSmart programme aims to educate the Malay/Muslim community to embrace digital solutions in their daily lives and be equipped with the knowledge and skills to be digitally ready. The programme provides targeted digital courses at varying proficiency levels to meet the different needs of the community. These categories include: i)Digital Financing, ii) Digital Literacy and iii) Digital for Everyday. At the Advanced level, participants could sign up for topics on FinTech, Data Analytics and Artificial Intelligence.
Some of our in-demand topics include "Be Scam Free than Sorry" that introduces participants to cybersecurity, "Stay Connected with Apps for the Malay Community" where our participants would explore common Islamic-related apps as well as SingPass mobile to access government services, and "Smart Travel & Food Delivery" which helps participants to navigate through trending travel and food delivery apps.
#DigiSmart was rolled out in February 2022 as an initiative to support the nationwide Digital For Life movement. The programme is in collaboration with our partners from various Malay/Muslim Organisations like AMP Singapore, Institutes of Higher Learning like Republic Polytechnic and other government agencies such as Infocomm Media Development Authority, and the Community Development Councils.