MENDAKI Homework Café (Partner-run)
The programme aims to provide a conducive environment for Malay/Muslim students to complete their school work. Together with community partners, the MENDAKI Homework Café aims to reach out and extend academic support and/or assistance to needy Malay/Muslim students. The support provided is for the English, Mathematics and Science subjects, with qualified tutors deployed to ensure students are able to complete their school work.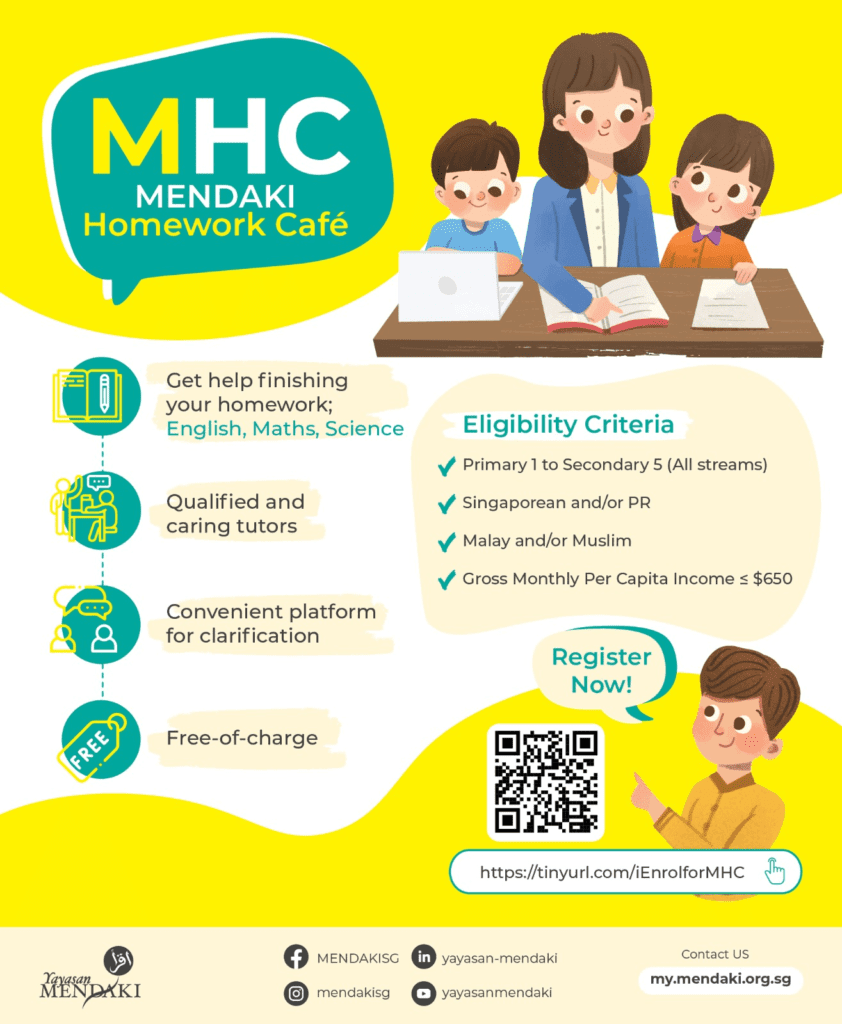 Eligibility Criteria
Primary 1 to Secondary 5 (All streams);
Malay and/or Muslim;
Singapore Citizen or Singapore Permanent Resident; and
The family's *gross monthly per capita income is not exceeding $650;
*Gross monthly per capita income refers to basic salary, excluding overtime pay, commissions, other allowances and one-twelfth of annual bonuses.
MENDAKI Homework Café (Partner-run) Centres
Partners
Mode
Schedule
Levels
Ahmad Ibrahim Primary School
On-site

Fri: 2pm – 3.30pm

Primary 3 – Primary 6
Al-Islah Mosque
On-site

Tue: 5pm – 6.30pm

Thu: 5pm – 6.30pm

All

Aspire Institute After School Tahfiz

Jurong/Yishun/Woodlands/Sengkang South/Tampines Campuses

On-site

Thu: 3.30pm – 5pm

All

Assyafaah Mosque (M³@Woodlands)

On-site

Wed: 5pm – 6.30pm

Fri: 5pm – 6.30pm

All

BOHME


30A Yishun Central 1
Singapore 768796


On-site

Wed: 6pm – 7.30pm

All

Casuarina Primary School
On-site

Wed: 2pm – 3.30pm

Fri: 2.30pm – 4pm

Primary 4 – Primary 6
Darul Ghufran Mosque
Virtual

Tue: 4.45pm – 7pm

Thu: 4.45pm – 7.00pm

Primary 5 – Secondary 5

Elias Park Primary School

On-site

Tue: 2pm – 3.30pm

Primary 1 – Primary 6

Family Service Team
Social Service Office @ Bedok

On-site

Thu: 4.30pm – 6pm

All

GraceHaven, the Salvation Army

3 Lorong Napiri, Singapore 547528

On-site

Tue: 7pm – 8.30pm

Secondary 1 – Secondary 5

Henderson CC

On-site

Sat: 4pm – 5.30pm

Primary 1 – Primary 6

Huamin Primary School

21 Yishun Ave 11, Singapore 768857

On-site

Wed: 1pm – 2.30pm

Primary 1 – Primary 6

Loyang View Secondary School

On-site

Tue: 3.30pm – 5pm

Secondary 1 – Secondary 2

M³@Geylang Serai


Blk 10 Eunos Crescent RC

On-site

Fri: 5pm – 6.30pm

All

Maarof Mosque

20 Jurong West Street 26
Singapore 648125

 On-site

Wed: 3pm – 4.30pm

All
Marsiling Primary School
On-site

Mon (Primary 3 – Primary 4): 2pm – 3.15pm

Mon (Primary 5): 2pm – 4pm 

Primary 3 – Primary 5

MENDAKI @ Choa Chu Kang

On-site

Tue: 2.30pm – 4pm

All

MENDAKI @ Woodlands

On-site

Wed: 4pm – 5.30pm

All

MENDAKI Homework Café @ WeCare

Blk 19 Marine Terrace, #01-156, Singapore 440019)

On-site
Mon: 7.30pm – 9pm
All
Naval Base Primary School
On-site

Thu: 2pm – 3.30pm

Primary 1 – Primary 6

Northoaks Primary School

On-site

Fri: 2.30pm – 4pm

Primary 1 – Primary 6

North Spring Primary School

On-site

Thu: 2.30pm – 4pm

Primary 1 – Primary 6

Qihua Primary School

On-site

Mon: 2.30pm – 4pm

Primary 3 – Primary 6

Serangoon Garden Secondary School
On-site

Wed: 2.30pm – 4pm

Secondary 1 – Secondary 4

Singapore Silat Federation

On-site

Wed: 6pm – 7.30pm

All

Springfield Secondary School

On-site

Thu: 3.30pm – 5pm

Secondary 1 – Secondary 2

Teck Whye Primary School

11 Teck Whye Walk
Singapore 688261

On-site

Fri: 2.30pm – 4pm

Primary 1 – Primary 6
Vibrance @ Yishun
On-site

Wed: 4pm – 5.30pm

All

Virtual Homework Café (M³@Woodlands)

Virtual

Tue: 7.30pm – 9pm

Thu: 7.30pm – 9pm

All

Woodlands CC (M³@Woodlands)

On-site

Wed: 7.30pm – 9pm

Fri: 7.30pm – 9pm

All

Xishan Primary School
On-site

Wed: 2pm – 3.30pm

Primary 3 – Primary 6