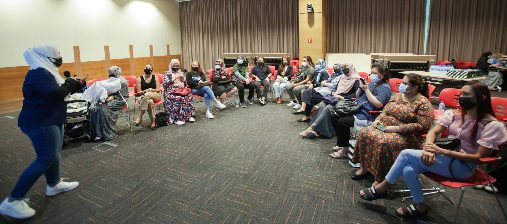 Women At Work (W@W) is an enhanced "back-to-work women" programme that facilitates and supports Malay/Muslim women to Restart, Rebuild and Re-integrate (3Rs) into the workforce. This programme is specially designed to support Malay/Muslim women who have been unemployed for more than 6 months and seeking to re-enter the workforce. We understand that some women may face challenges returning to a work environment where skills and competencies requirements have shifted significantly.
Since 2008, Yayasan MENDAKI (MENDAKI) has been supporting Malay/Muslim women to return to the workforce through skills upgrading, capacity-building, and job matching. The W@W programme aims to increase the labour participation rate of Malay/Muslim women and promote dual income in households.
In conjunction with the rollout of the W@W programme, we will also be forming a professional network of working women that can lend support to the participants. Participants will also get to connect with the women professionals for career mentoring sessions.
Participants will undergo a three-stage process as part of the W@W programme:
Restart: A holistic career and skills advisory session with our Care Advisors to help each participant come up with their Career Action Plan (CAP), which consists of SMART goals, a training and development plan, and a career action plan. They will be provided with holistic support and assistance through the Last-Mile Service Delivery (LMSD) approach (at their nearest MENDAKI satellite centres) throughout the programme to facilitate their return to the workforce.
Rebuild: There will be separate training pathways for PMET and non-PMET participants. The training consists between three and five days of virtual workshops. These workshops would equip participants with relevant and growth skillsets such as administrative, digital, employability, collaborative, and critical thinking skills to equip them with the necessary skillsets required in workplaces.
Re-Integrate: MENDAKI will work with the participants to enrol in the Career Trial programme for two to four weeks, which is funded by Workforce Singapore (WSG). Upon completion, the programme officer will work closely with the Employment and Employability Institute (e2i), an initiative of the National Trades Union Congress (NTUC), and WSG to provide professional job coaching and placement support to ensure participants be gainfully employed.
Join our Telegram channel to be part of our Women Network – connect with other like-minded women, and stay updated on our programmes specifically for you: tinyurl.com/WOWtelegram